North Dakota's largest dealer for brass model trains, steam and diesel locomotives, passenger cars, rolling stock and kits.
---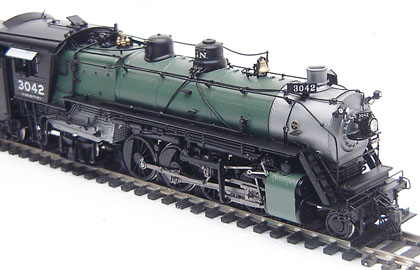 Welcome to our website!
Dakota Brass is now in its 18th year of business. My brass collection actually started 44 years ago when my wife bought me an NJCB Long Island G-53sd Ten-wheeler as a wedding gift. (My mother said she would regret that choice!) It is still in my collection and runs well, although it needs to be upgraded to DCC/sound. Brass models have only gotten better since 1974. The pieces that are being produced now are truly better than museum quality. The variety of models available is incredible, if you are willing to hunt for it. These are truly works of art that, with care and patience, become very reliable working models. Thanks to the internet, even if you canít afford to buy them, you can still enjoy looking at them. Enjoy our pictures (the work of Dan Haakenson). If you see something you would like to buy, please contact us.
---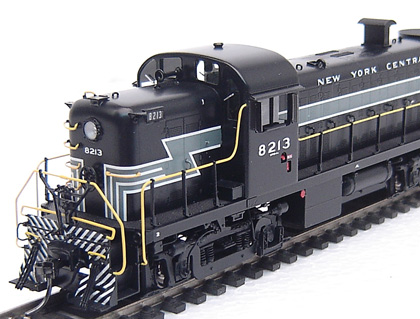 ---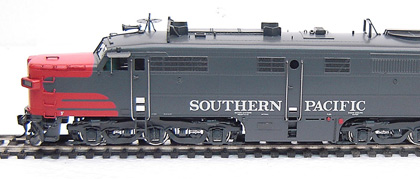 ---
SOUNDTRAXX
Dakota Brass is an authorized dealer for all Soundtraxx and Blackstone models products. Iíve had a lot of experience installing Soundtraxx products in brass models. My day job unfortunately is too busy to allow me to do installations for hire, but I can certainly help with your questions. Soundtraxx has been busy upgrading their offerings. Their sound packages are continuing to improve. They also now offer 2 and 4 amp decoders that will allow installations in most 2-Rail O-Scale models. Iíve had the opportunity now to try them out in extended Night Trains sessions at the Twin City Model Railroad Museum in St. Paul. They have performed flawlessly and are a big crowd pleaser. Check out the Soundtraxx website for more details

---
DIVISION POINT
Jack during the past year has delivered another group of Alco RS roadswitchers and a second run of the Krauss-Maffei diesel hydraulics. Another run of the Alcos is due this spring. Following that, he will be redoing the popular Baldwin centercabs. The Rock Island R-67ís and Soo Line O-20ís are on the short list as well as another group of Prospector passenger cars and some related heavyweight head-end cars. The D&RGW P-44ís and K-59ís are also on his list, as well as another group of Rio Grande standard gauge cabooses, narrow gauge tank cars and K-36/K-37 Mikes. There is also a short rerun of the N&W Jawn Henry in the works. Check out the Division Point Website for more details.
---
Union Terminal Imports
Ed and Chuck had a busy year with their run of E-units and SP Alco PA/PBís. In the offing are SP late passenger Geeps, Krauss Maffei hood units, the Alco DH-643 diesel-hydraulic (known also as the ďAlco-haulic.Ē) The SP/RI Golden State is on the drawing board, as well as more Pullman lightweights, DODX cabooses, and an interesting Illinois Central project. Visit their website for more details.
---
The Coach Yard
Fred has kept busy. His early cab-forwards and 2-8-8-2ís sold out quickly as did the Sunsetg Limited. He has a number of projects planned, including the Texas Zephyr, an ATSF Employee Special, the 1955 Portland Rose, the City of St Louis and the Los Angeles Limited. The UP M-10002 City of Los Angeles and the M-10004 City of San Francisco are also on the list. Finally, a groups of NYC Pacemaker trains and coaches and PRR Fleet of Modernism trains are on the short list. Visit their website for more details.
---
North Bank Line
Edís long awaited GN and SP&S O-1ís have arrived. He is planning another caboose project. His steam projects have been slow to fill, but are still posted. See their website.
---
Sunset/3rd Rail/Golden Gate Depot
Scott has remained very busy in the O-Scale 2-rail and 3-rail market. There is an HO CB&Q O-5 run due this spring in brass. The O-Scale offerings are numerous. Check out the NYC Mohawks, the Rio Grande Challengers, and the T&P/CGW 2-10-4ís. They are also planning a run of WWII era hospital cars and derivatives and a run of Milwaukee Hiawatha cars. Visit their website.
---
DAKOTA CENTRAL AND WESTERN MODEL RAILROAD MUSEUM
Located in the basement of the Lewis Hotel at Buckstop Junction, this 3000 square foot DCC-controlled HO layout is well underway with over a thousand feet of track in operation. Work nights are Thursdays. If you are going to be in town and would like to visit it, contact me by Email, phone, or snail mail.
---
Twin Cities Model Railroad Museum
Iíve been a member of this organization for over 35 years. It was founded and originally located in the St Paul Union Depot in the 1930ís until it moved to Bandana Square in the old NP Como Shop complex in the early 1980ís when the Depot closed. Two years ago, it then accomplished what most of thought would be nearly impossible: it moved again to a new site at 668 Transfer Road off University Avenue in St Paul, adjacent to the old Amtrak Depot. (Ironically, Amtrak has now moved back to the St Paul Union Depot.) The TCMRM has joined with a number of other model railroading groups in an 11,000 square foot space which has become a site truly take in the breadth and scope of model railroading. This is an absolute must-see for rail fans in the Twin Cities. Visit their website or call them at 651 647-9625 for hours.